Maria's story
This is the photo-story of Maria Mustapa, an Order-to-Delivery Excellence Manager who is based in Kuala Lumpur, Malaysia and has made several career advancements since joining Shell.
Hi, I'm Maria Mustapa and I started working at Shell in 2009. I've held three different positions since joining the company and am happy that Shell puts a strong focus on my development to succeed in my career.  Personally, I believe that remaining positive and smiling often are two of the best ways to increase productivity and boost office morale.
I really like the photo above. It makes me smile and I can remember being very happy the day it was taken. I love my job, and I think this picture really reflects that.
What I love about Shell is the dynamic group of people I get to interact with.
The first thing that I should mention about me is that I'm an incredibly positive person. I never stop smiling and I'm always looking for ways to encourage my colleagues and get them grinning. I feel glad that Shell promotes a culture of care. People are very collaborative and inclusive. I am truly thankful for having such a positive work environment and I think a lot of people in my office will never have seen me without a smile on my face!
'I'm powered by: delivering through others by regular coaching'
I'm certain that my optimistic outlook in life has helped me in my career and I've made it my mission to work with other people to ensure they achieve everything they are capable of. I love being able to help colleagues achieve their ambitions, because I want everyone to be aware of how much they can achieve if they put their mind to it. This culture of mentoring is a common practice in Shell. Leaders help create future leaders out of their teams.
Being part of this diverse and talented team further inspires me to perform and do great in what I do.
The image above was taken after a Leadership Training event. There were a lot of activities throughout the day, many of which were team-based and required people to work together to come up with solutions and answers. It was a very cheerful environment and everyone showed willingness to learn and get their hands dirty, so to speak.
I'm very fond of activities that take people out of their comfort zone and encourage interaction. In an office environment it can be very easy to just settle into a routine and do the same thing day after day, but I'm a huge advocate of getting people together and putting them in a situation where communication and problem-solving are key.
I'm absolutely convinced that work life is so much better when people are happy and want to be in the office.
This is a photo taken at a team-building event that I still remember as being one my happiest days with Shell. This picture was taken just after a Zumba class I organised; some people were a bit tentative at first, but after five minutes everyone was dancing around and laughing. It was brilliant!
I like empowering those around me and helping them to be creative. Some people need coaching and hand-holding, which is fine, but I always try to make them believe in themselves and realise that they can achieve things on their own. Sometimes, all they need is a little push in the right direction.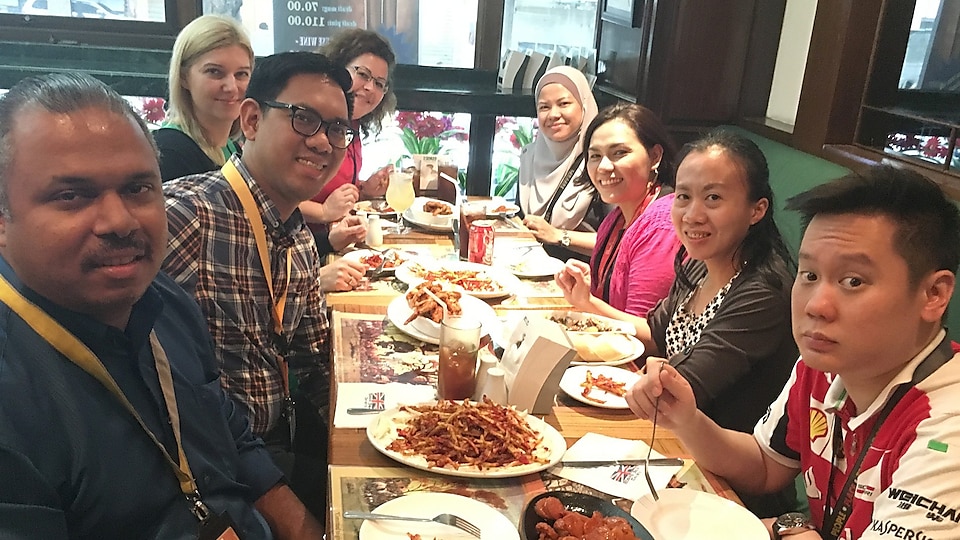 One of the best things about working for Shell is that there are offices all over the world. I get the opportunity to travel and meet new people, all in the name of my job!
This meal, which was in Manila, was the first time I met the Order-to-Delivery Operations Leadership Team.
As soon as I met them, I knew they were a great group of people. There's a lot of diversity, a great amount of knowledge and they all genuinely love what they do. It makes such a big difference when you enjoy coming into the office and everyone in this photo makes the workplace such a pleasant environment to be in.
I'm a big fan of deliberating work with colleagues. It's always good to get a second opinion, or to run an idea by someone. I encourage everyone in my team to be open and communicative; there's no point sitting and struggling with a problem when it would be far easier to ask for assistance.
I enjoy being with other people, especially if they're as determined as I am. Everything is possible with the best people, and I've definitely got the right team around me. They make me look forward to coming into the office every morning.
Outside of work, I absolutely love spending time with my family.
In this picture, you can see me sitting beside my father. Behind is my mother, who's holding a balloon, my niece – the cheeky one with her tongue out – and my nephew, who's normally the mischievous one. I love being around children – they're always so energetic and happy – because that's exactly what I'm like! I try to be with my family as much as possible, and I'm truly thankful that Shell respects work-life balance.
This is Cicak, my lovely cat. He's 12 years old, huge and is pretty much the boss of my house.
For those of you who speak Malay, you'll know that 'cicak' means 'house lizard'. He chose the name, not me! I tried calling him all sorts of proper cat names – Tabby and Orange, for example – but the only time he ever responded to my voice was when I said Cicak.
Disclaimer: Views expressed are of the individuals featured and are not representative of the views of the Shell group of companies and their affiliates.
More in SHELL BUSINESS OPERATIONS KUALA LUMPUR
Siew Yen's story is of a passionate production manager who values diversity and the chance to learn.
Fazilah Abu's story is about her dedication to helping everyone she works with develop, expand and grow.