Shell Malaysia Celebrates 125 Years Of Fueling Malaysian Progress
Aug 12, 2016
Plans to fuel Malaysian innovation and competitiveness through ongoing exploration; and RM125M over 10 years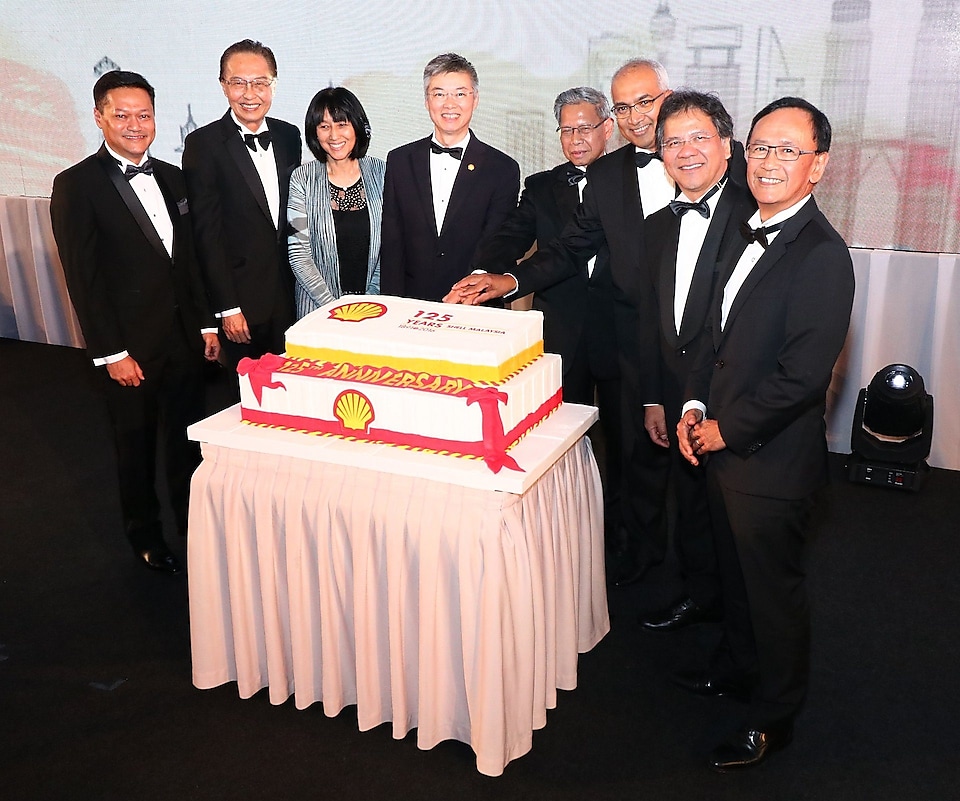 KUALA LUMPUR, 11 August 2016 – At a gala dinner to mark its 125th anniversary in Malaysia, Shell announced it will focus on powering innovation and competitiveness to fuel Malaysia's future. To do so, the company intends to remain the leading offshore explorer in Malaysia and investment RM125 million over the next 10 years to fund Malaysian talent innovation and competitiveness initiatives. Shell Malaysia also introduced Shell Live Wire, to enable young Malaysians to start their own business and create employment.
These announcements were made by Shell Malaysia Chairman Datuk Iain Lo, who explained, "We are proud of all we have achieved together in 125 years, but there is a new reality in Malaysia and the world. Shell will continue play an important role in helping Malaysia realise its goals. Together, we will power innovation and competitiveness, to fuel Malaysia's future."
125 Years of Fueling Malaysian Progress
In its 125 years in Malaysia, Shell and its partners have taken the industry further out and further down into the technically challenging depths of deep-water. Shell discovered Malaysia's first oil well, the "Miri No. 1", on Canada Hill in Miri, on 10 August 1910. From these humble beginnings, the company's Gumusut-Kakap and Malikai platforms – both fabricated in Malaysia – are capable of producing oil at water-depths deep enough to cover the height of the KLCC Twin Towers.
From installing its first petrol pump on the Penang Road in 1913, the company now supplies fuel at over 900 retail sites nationwide. The company maintains its lead with consumers through premium products like its V-Power Racing fuel, Euro-5 Diesel, and lubricants using its GTL-based PurePlus Technology. In 1914, Shell also built Malaysia's first oil refinery in Lutong, Miri.
Shell helped develop Malaysia's natural gas industry when it found a way to monetise gas, once considered an unwanted by-product of producing oil. In 1983, Malaysia shipped its first LNG shipment to Japan; the result of a partnership among PETRONAS, Shell and Mitsubishi. Developments in natural gas also heralded the Gas-To-Liquids industry, leading to the world's first commercial GTL plant – the Shell Middle Distillate Synthesis (SMDS) plant in Bintulu, Sarawak.
The company's legacy in Malaysia goes beyond its business footprint. In the course of doing business, Shell has built roads, hospitals, and other infrastructure – contributing to the growth of small villages into thriving towns such as Miri and Bintulu today. It also continues to be a strong voice for safety leadership through its iconic Shell Traffic Games, first launched in 1957 and since revamped into the Shell Selamat Sampai programme, as well as its Shell Malaysia Safety Awards. Former Shell employees have also gone on to serve as prominent corporate and national leaders; such as Tan Sri Megat Zaharuddin Megat Mohd Nor; Tan Sri Zarinah Anwar; Tan Sri Saw Choo Boon; Dato' Sri Idris Jala; and Datuk Mohd Anuar Taib.
The Next 125 Years – Powering Innovation & Competitiveness
Shell continues exploration activities, such as the mega seismic survey conducted this year that 13,000 sq. km. of the Central Luconia area, 100 miles offshore Sarawak. Shell will continue investing in Welcome To Shell, a multi-year transformation project for its retail sites. Shell also recently established two new offices in Kuala Lumpur and Kota Kinabalu.
Lo elaborated, "Shell remains confident in Malaysia. We must become more efficient and competitive and, where necessary, take tough decisions regarding our business. We will continue working with partners, communities, the Government and others to meet the Malaysia's growing energy needs. Together we can drive breakthroughs and new innovations to provide jobs, become more competitive, and increase the use of cleaner energy sources. It's about making the future together with Malaysia."
For further Media Enquiries, please contact:
Zulkifli Baba Noor
Email: Zulkifli.BabaNoor@shell.com
Sarah Lee
Office: +60327188250
Email: sarah.lee@ogilvy.com
About Shell – www.shell.com.my
Shell is a global leader in power, energy, and gas technology and is working to meet increasing energy demand and supply challenges by delivering smarter products and cleaner energy, infrastructure, and by developing new energy sources while addressing the impact on the environment. Malaysia is one of Shell's heartlands. The history of Royal Dutch Shell in Malaysia started more than 120 years in Miri, Sarawak. Shell currently has a strong market presence in the upstream and downstream sector in Malaysia.